Thirty Years of Responsible Production
30 ans de production responsable

© Photo Credit: Azura
Climate Smart Crop Production
First and foremost, Azura's tomato production respects seasonality and benefits from the natural heat and light of the sun, without the need for any other energy source to heat the greenhouses.
This allows Azura tomatoes to have a naturally low environmental footprint: the total greenhouse gas emissions of an Azura tomato, from farm to table, are 1.26 CO2e/kg of tomato.
Life Cycle Assessment
In 2010, using the "Life Cycle Assessment" method, carried out according to the ISO 14040 and ISO 14044 International Standards, Azura initiated an extensive analysis of its environmental impact, which measures the quantifiable effects of Azura's activities on the environment (notably CO2 emissions), covering all stages of the life cycle of its products:
All inputs (raw materials needed for production)
Tomato production (watering, harvesting, etc.)
The manufacture of packing and packaging
The transport of the product
Storage and conservation of the product at the distribution site
Several lessons have been learned from this analysis of the impacts on a perimeter ranging from production to the consumer's plate (farm to table) :
The production of one kilogram of tomatoes (cherry or long tomatoes, from production to consumer) emits 1.26 kg CO2e/kg.
About half of Azura's tomato emissions (46%) come from agricultural activities.
The other main emissions are split between packaging (23%) and distribution (19%).
2010-2020: We have Fulfilled Our Objective of Cutting CO2 Emissions By At Least 20%

© Photo Credit: Getty Images
The carbon neutrality Azura has achieved today is a natural extension of its production method and a process undertaken to reduce its CO2 emissions that began more than ten years ago. After reducing its CO2 emissions by 20% since 2010, Azura is continuing its reduction plan and compensates 100% of its emissions: 192,000t CO2e/year.
For more than ten years, the Azura Group has been acting daily to reduce its environmental footprint by working on all aspects of its production chain:
By reducing the weight of its packaging by nearly half (-43% since 2010), a measure that has saved 1,200 tons of plastic since 2015.
By improving the recycling of its waste
By launching the "Pesticide Residue Free" in July 2019
Supporting the development of local communities (education, access to drinking water, etc.) through the Azura Association.
2019: The Oblong Cherry Tomato is Certified Pesticide Residue Free
In July 2019, Azura launched "Pesticide Residue Free".
This Zero Pesticide Residue approach, implemented on one of Azura's flagship products, reinforces the good practices implemented on production farms, namely the choice of tomato varieties that are more resistant to pests, the use of natural pesticides whenever possible, as well as Integrated Pest Management (IPM), which consists of introducing insects that are enemies of pests into greenhouses in order to promote natural defense.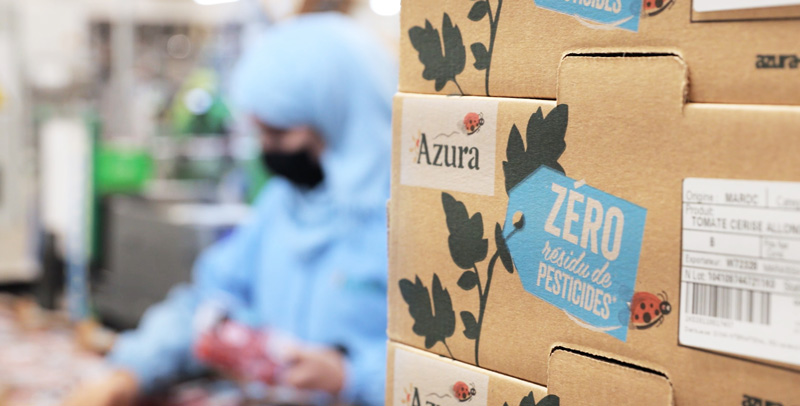 © Photo Credit: Azura